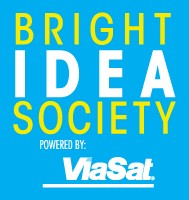 WE ARE PROUD TO INTRODUCE THE WINNERS OF OUR 2017 BRIGHT IDEA SOCIETY POWERED BY ViaSat Inc.
Elementary School
Ms. Krishnan's 4th Grade Class from Torrey Hills Elementary School in Del Mar Unified School District will use their STEM skills to build an interactive Quiz board, using battery operated lights/buzzers, wires and build a circuit. Students will research topics that they are interested in, using iPads, library books and text books. They will then formulate some questions and design a multiple choice Question and answer sheet with 4, 5 or 6 questions. Be sure to test your knowledge at their booth at Expo Day.
---
Middle School
Maker Studio at San Pasqual Union Middle School plans to showcase their Makey Makey projects in the areas of music, art, gaming, and a light display. One wall would feature a tin foil accented Twister mat that makes music when a circle is touched. Another wall will have interactive art with copies of famous paintings that have been altered to verbally say things. Be sure to stop by their booth to experience the Makey Makey revolution
---
HighSchool
Catalyst for Success from Westview High School has been bringing interactive science experiments to elementary classrooms in San Diego since 2011 and plan to make a splash on Expo Day 2017. The organizations goal is to promote STEM (science, technology, engineering, and math) for young students in order to inspire them to become the world's future scientists and innovators.