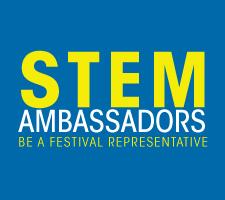 REPRESENT THE FESTIVAL AT 2017 EVENTS
VOLUNTEER OPPORTUNITY FOR STEM ENTHUSIASTS!
The San Diego Festival of Science & Engineering is looking for dedicated STEM enthusiasts to VOLUNTEER as FESTIVAL REPRESENTATIVES during the 2017 FESTIVAL WEEK MARCH 4-12th 2017.
STEM Ambassadors are responsible for attending Festival Week Events and professionally representing the Festival and encouraging student engagement!
STEM Ambassadors agree too:
Represent the Festival in a professional matter at Festival Week events. Ambassadors will be given a branded Festival t-shirt to wear when volunteering at events.
STEM Ambassadors will assist with set-up and break down at designated event(s).
STEM Ambassadors will attend at least five (5) 2017 Festival Week Events and volunteer a minimum of 10 hours throughout Festival Week.
STEM Ambassadors will help promote the Festival via community outreach.
STEM Ambassadors will attend a brief 1 hour orientation to learn more about the mission and branding of the Festival to better communicate these values to attendees.
STEM Ambassadors may obtain additional volunteer hours by posting flyers around the San Diego community, attending community outreach events, helping the Festival Staff prepare for events, and additional opportunities.

Great for college students, retirees, or STEM enthusiasts with a love for giving back!

**STEM AMBASSADORS are eligible to receive volunteer credit for hours served with the Festival.

AGE: ANYONE CAN BE A STEM AMBASSADOR – all it takes is a passion for inspiring students to explore #STEM and a positive personality when working with the community at large.
DEADLINE TO APPLY

JANUARY 2, 2017




Questions? E-mail Amanda at
acoates@biocom.org