Thursday, April 29 | 1:30-3:00pm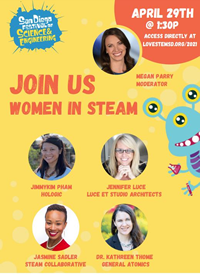 This event provided space for young women to learn from and be inspired by women leaders across a range of STEAM industries. Each speaker shared their career journey, how they overcame challenges and answered audience questions live.

Watch the Recording Here
Speakers
Moderator: Megan Parry, Meteorologist, ABC 10News
Megan Parry returned to her hometown of sunny San Diego in May 2017 to join the ABC 10News family as the morning and midday newscast meteorologist. Megan's love for weather began when she was a little girl living in Texas. She was fascinated by all the weather she experienced there from tornadoes to ice storms. After a couple years working as an Environmental Scientist for the California Environmental Protection Agency, she went back to school to follow her dreams of becoming a meteorologist. She earned her Masters degree in Broadcast Meteorologist from Mississippi State University. You can see meteorologist Megan Parry weekdays on ABC 10News all morning long and be sure to catch "Pet of the Week" on Friday's on ABC 10News at 11am, a segment Megan started and organizes herself.
---
Dr. Kathreen Thome, Physicist, General Atomics
Dr. Thome is an experimental plasma physicist for General Atomics in San Diego. Her interest in plasmas and fusion began in her 10th grade chemistry class when she first learned about fusion, the process that produces energy in the stars. This led her to commit to focusing her career on developing this energy source for terrestrial use. After high school, Dr. Thome attended Massachusetts Institute of Technology (MIT), where she received her B.S. in Nuclear Science and Engineering in 2009 and conducted research at MIT's Plasma Science and Fusion Center. After enjoying her undergraduate research and classes in plasma physics, she continued toward her goal by earning her Ph.D. in Nuclear Engineering and Engineering Physics from the University of Wisconsin–Madison in 2016. After graduation, she began working on-site at the DIII-D National Fusion Facility, first as a postdoctoral scientist and, since 2018, as a staff scientist. At the nation's largest tokamak, she is doing her dream job and is never bored.
---
Jimmykim Pham, Senior Manager – Hologic Diagnostics R&D Assay Development
Jimmykim Pham has a degree in Biochemistry from UCSD and is a Senior Manager of R&D Assay Development at Hologic, recently celebrating her 20-year service anniversary with the company. She can be credited with contributions to the development of various diagnostic assays as well as our Tigris and Panther instrumentation platforms. Her most noteworthy work is the recent development of the SARS CoV-2 Assay for the diagnosis of Covid-19. When Jimmykim is not at work, she enjoys traveling, hiking and camping.
---
Jasmine Sadler, CEO, The STEAM Collaborative
Trained as a rocket scientist and ballerina, Ms. Jasmine L. Sadler, MBA lives her life on purpose through her company, The STEAM Collaborative, which increases the number of diverse children – of all genders and cultures – pursuing Science, Technology, Engineering, and Math, alongside artistic endeavors. Since relocating from Detroit to San Diego 8 years ago, Jasmine specializes in entertainment, engineering, entrepreneurship, and education. Collaborating with over 50 organizations, The STEAM Collaborative Designs, Organizes, and Implements STEAM Programs with Directors and Managers of youth-focused, informal education organizations.
---
Jennifer Luce, Principal
Canadian-born architect Jennifer Luce, FAIA, began her career winning an international competition to design the Center for Innovative Technology, Washington DC, two months after graduating from Carleton University, Ottawa, Ontario. This project became the first smart building in the US, executed as a partnership between Virginia Academic Institutions and the Virginia State Government. Over three decades, Jennifer has established a multi-disciplinary architectural practice, LUCE et studio, in California that focuses on public art projects, urban design interventions, creative workspace, and various collaborations with artists and landscape architects. LUCE et studio routinely uses new technologies to innovate while seeking an authenticity that speaks to the handcrafted tactility and narrative. The studio has garnered 28 American Institute of Architects (AIA) awards and a BusinessWeek "Design Excellence Award" and honored as "Design Vanguard of the Year" by Architectural Record Magazine. Jennifer's work has been featured in The New York Times, Fast Company, Architectural Record, Interiors, among others.
---
Special Thanks to Our Event Sponsors: